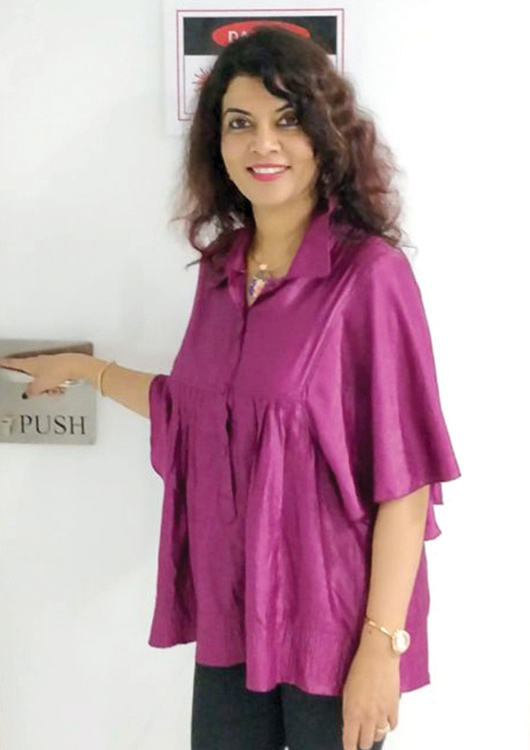 Know More About Dr Shehnaz Z Arsiwala
Designation: Consultant Dermatologist, Cosmetologist and Dermatosurgeon
Qualification: MD Dermatology, DDV (Gold Medalist)
MBBS: Date of Passing – October 1990
College: Lokmanya Tilak Municipal Medical College
University: University Of Bombay
Diploma In: Dermatology and Venereology: Date of Passing – July 1995 Gold Medal
College: College Of Physicians And Surgeons of Bombay
MD (Dermatology): Date of Passing – January 1996
College: Topiwala National Medical College
University: Bombay University
Registration No. : 69134
Name: Maharashtra Medical Council
Year: June 30, 1992
Additional qualification: MD (skin diseases)
Registration number: 69134
Maharashtra Medical Council
Dr shehnaz is a Dermatologist, Cosmetic dermatosurgeon and laser specialist - runs the RENEWDERM SKIN HAIR LASERS AESTHETICS CENTRE AT MAZGAON, MUMBAI, INDIA
ALSO A HONORARY CONSULTANT AT PRINCE ALY KHAN HOSPITAL and SAIFEE HOSPITAL, Mumbai India.
in clinical practice since last 21 years
Areas of expertise are • LASER EXPERIENCE of 21 years includes hair removal multiple technologies, Q switched Nd: YAG lasers, fractional ablative Erbium: YAG resurfacing and fractional carbon dioxide laser, 308 excimer systems, near infrared skin tightening. radiofrequency microneedle and skin tightening experience, High intensity focused ultrasound technology, hair restoration techniques like prp and Autologous micrografts.
CHEMICAL PEELS for which she has conducted numerous workshops and invited lectures across the country for national and international conferences
She has more than 3 dozen INTERNATIONAL PRESENTATIONS on combinations of chemical peels, lasers, and energy based devices, fillers, botulinum toxin, HIFU, acne scars, non-acne facial scars, pigmented lesions etc in the last 10 years at DASIL, The EADV, AAD, WCD, and ESCAD as well as National IADVL and ACSI, CDSI, AESTHETICS, FACEESTHETICS, IMA workshops, and conferences over the last 8 years.
On the EDITORIAL BOARD for CASEBOOK OF DERMATOLOGY an IJCP publication 2011. She has co-edited and authored chapters in BOOK ON Psoriasis released in 2010 and authored a chapter in BOOK ON STEP BY STEP CHEMICAL PEELING.
She is a reviewer for INTERNATIONAL JOURNAL OF COSMETIC Dermatology, JOURNAL OF CUTANEOUS AND AESTHETIC SURGEONS AND INDIAN DERMATOLOGY ONLINE JOURNAL, INDIAN JOURNAL OF PEDIATRIC DERMATOLOGY, INTERNATIONAL JOURNAL OF Pharmacology, Indian JOURNAL OF DERMATOLOGY ETC.
She has authored multiple articles and modules on ACNE, ACNE SCARS, FILLERS, infliximab in psoriasis, interventions for difficult acne and scars, complications of procedures and cosmeceuticals, fillers for volumetric rejuvenation and
has conducted and participated in numerous clinical trials on acne formulations, cleansers, antibacterial studies in acne, pigmentation, wrinkles and fillers with national and international publications.
Life Memberships of Various Associations and posts:
LIFE MEMBER OF IADVL
ASSOCIATION OF MEDICAL CONSULTANTS
MEMBER OF ACSI, COORDINATOR OF FOCUS GROUP AESTHETICS ACSI
MEMBER OF PIGMENTED DERMATOLOGY SOCIETY INDIA
MEMBER OF EADV
MEMBER OF ISD
MEMBER OF DASIL
MEMBER OF AAD
MEMBER OF ISDS
Dr. Shehnaz Z Arsiwala (Clinic Timings)
Renewderm
Address : New Mazagaon Co-op. Hsg. Soc. Ltd. A Wing 3rd Floor, Office No 36(I) / 37, 370/371 Nesbit Road, Next to Mazagaon Court, Mazagaon, Mumbai – 400 010.
Tel :022-23723724 / 25
Mob :9821214856, 9833309598
Timings : (Mon - Fri) Morning - 9am to 1pm,
Evening - 4:3Opm to 8:3Opm, Sat. - 10am to 6pm
Saifee Hospital
Address: 15/17, Maharshi Karve Rd,
Consulting Room: 3rd floor (Executive Health Checkup), Charni Road Rly Stn. Mumbai-4.
Tel: 67570111 Ext 360
Timings: 2 pm to 4 pm ( Mon to Fri)
Email: drshenaz.arsiwala@gmail.com